ONLINE EVENT: CELEBRATING THE PROPHET ﷺ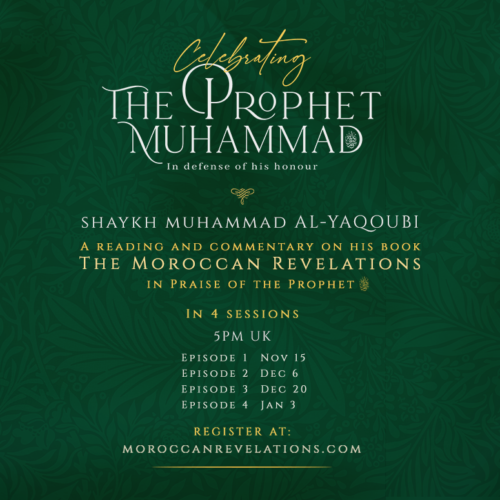 SHAYKH


MUHAMMAD AL-YAQOUBI


READING AND COMMENTING ON HIS BOOK
When ignorants insult the Best of Creation ﷺ, the response those who know him and love him ﷺ is to sharpen their arms – that is: their pens – and excel in the description of his beauty and perfection.
The response of Shaykh Muhammad al-Yaqoubi is to offer his own reading of his poem, "The Moroccan Revelations", with an in depth commentary that allows us to accompany him on a personal journey to the Beloved of Allah ﷺ .
Episode 1: Nov 29
Episode 2: Dec 6
Episode 3: Dec 20
Episode 4: Jan 3
The programme is in English
Sunday 29th Nov 2020
4 pm GMT
TO GET A LINK TO THE EVENT BY EMAIL
SHAYKH
MUHAMMAD AL-YAQOUBI
He is renowned as a reviver of the Prophetic way and a clear voice advocating traditional Sunni Islam in the world today. He is mentioned as one of the forty most influential Muslim scholars in the world, as mentioned in the Muslim500 review of the Royal Aal al-Bayt Institute.
He was born in Syria from a family of scholars that traces its lineage back to the Prophet ﷺ through the Idrisi lineage in Morocco.
POETRY IN PRAISE OF THE PROPHET ﷺ
Shaykh Muhammad Al-Yaqoubi  has dedicated his life in the way of teaching the Prophet's ﷺ life, composing books and writing poems praising him ﷺ. The penetrating meanings, eloquence and powerful use of language has gained him the nickname "the Busiri of our time". 
The title of "The Moroccan Revelations" is related to the openings he received from Allah after moving from Syria to Morocco, some of which are evident in the many works which he produced in Morocco, among them:
Shifa'ul Qulub fi's Salati ala'l Habib'il Mahbub ﷺ . A collection of salawat.
Shamail al-Habib al-Mustafa ﷺ. A collection of hadith describing the noble features of he Prophet ﷺ.
Maghani Ruba'l Asma. A 900-lined poem mentioning 1700 names of the Prophet ﷺ.
Jam'ul Asma'in Nabawiyya wa's Sifati'il Muhammadiyya, containing 3500 names and attributes of the Prophet ﷺ.
Arfau'z Zura fi Madhi Khayr'il Wara. A poetic expansion of the Hamziyya of Imam Sharafud-Din al-Busiri.
Al-Anwar al-Muhammadiyya. A poetic expansion on the Burda (Poem of the Mantle) of Imam Sharafud-DIn al-Busiri.
Shaykh Muhammad al-Yaqoubi expresses in the most eloquent of ways his love and yearning for the Prophet of Islam ﷺ in an incredible masterpiece. 
Coincidentally the Arabic is compromised of 256 lines, the same number as the numerical value of the Divine name 'Nur' which is also a name of our Master, the Prophet of Islam ﷺ. He shows through his words the light of the Prophet Muhammad, peace and blessings be upon him, in all its understanding and beauty through the eyes of a true lover.
© 2020 Morrocan Revelations